Today's How-To post comes to you in one of my all-time favorite forms: The Carbohydrate.
Making your own pitas are so simple, you will never buy the cardboard tasting ones at the store ever again. Seriously. Stop buying that crap. They're gross and full of all kinds of preservatives. Spend a half hour or so making these and thank me later.
[I accept all forms of thanks, including, but not limited to: diet coke, cookies, and/or cash.]
Here's what you do: Take 1 1/4 cup warm water and add 2 1/2 tsp. yeast. Let it sit for about 10 minutes until the yeast is bubbled up.
Then add: 3 cups flour, 1/2 tsp. salt, 1 tsp. sugar, and 1 Tbsp. oil. Mix well.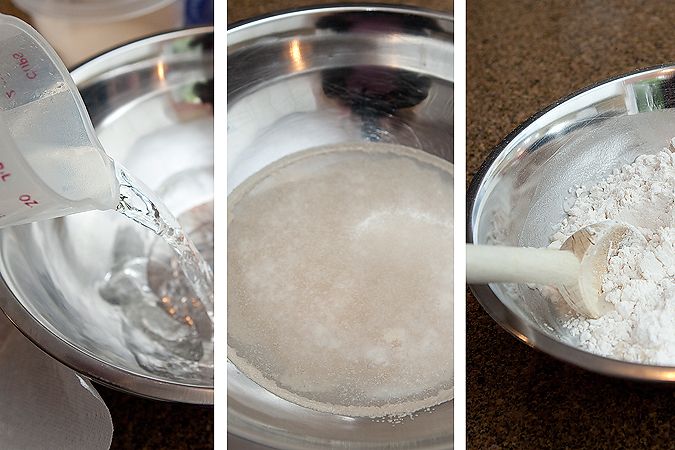 Turn the dough onto the counter and knead well, adding flour as necessary. Divide the dough into eight equal parts. Roll each part into a ball, then flatten into a six-inch circle with your rolling pin.
Put circles on heavily-floured foil or parchment paper. Let rest for 30-45 minutes, until dough starts to slightly rise.
Then gently peel off each pita and place onto an ungreased baking sheet. You need to do this step; otherwise, they will stick to your pan as they rise in the oven.
Bake in a pre-heated 500 degree oven for about 3 minutes per side, turning halfway through. The pitas will puff up while baking. This gives you the hollow center for filling with deliciousness later.
Remove from the oven and stack pitas on top of each other, gently covering them with a towel. Let the pitas rest, and as the steam gradually escapes, each pita flattens out.
Slice in half with a serrated knife.
And, voila! A lovely little pocket just waiting to be filled with good things.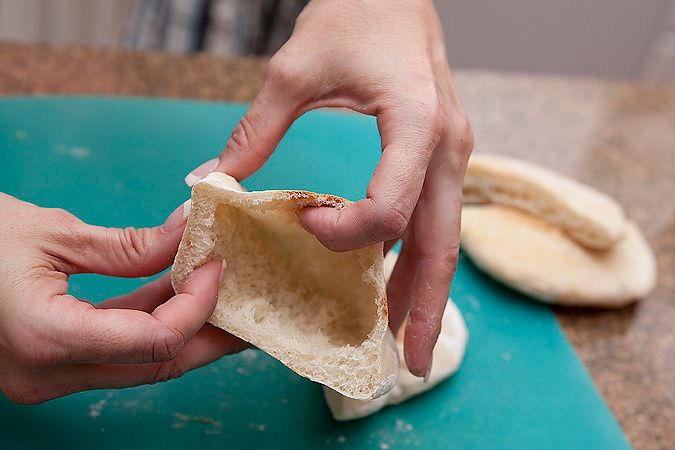 These are fantastic right out of the oven, can be made hours ahead, and even freeze well. Look at all the lovelies just waiting to be consumed:
Here are some of our fillings of choice.
[Not pictured: some chicken breast that I sauteed in a little bit of Italian dressing. Drizzle a little dressing onto your filled pita and you have a feast. (Though I am thinking Linsey's homemade hummus would be delish with these bad boys. Note to self: Get to the store ahead of time).]
And for a more printable version:

Pita pockets
1 pkg. yeast
1 1/4 cup warm water
3 cup flour
1/2 tsp salt
1 tsp. sugar
1 Tbsp. oil

Sprinkle yeast over water in large bowl. Let sit for 10 minutes or until yeast is bubbly. Add flour, sugar, salt, and oil. Mix well. Knead dough until soft; divide into 8 equal parts. Roll each part into a ball and flatten into a six-inch circle with a rolling pin. Let rest on floured tin foil for 30-45 minutes or until slightly puffy. Peel off foil and put onto ungreased cookie sheets. Bake at 500 for 4-8 min. flipping halfway through. Stack on top of each other and cover loosely with dish towel to let steam escape. Slice in half and enjoy with your favorite salad or toppings.
And that's it. Your turn.
Teach me. Teach me now, dammit.
Mister Linky's Magical Widgets -- Easy-Linky widget will appear right here!
This preview will disappear when the widget is displayed on your site.
For best results, use HTML mode to edit this section of the post.