All right, all right. I'll help you people out. Because I love you.
And because it is my life's work to fatten the rest of you up so that maybe eventually I'll look thin.
[Insert maniacal, evil laugh and diabolical hand wringing]
Okay. Got that out of my system. Let's make a cheesecake.
Take 1 1/4 cup graham cracker crumbs
1/3 cup butter, melted
1/3 cup cocoa
1/3 cup sugar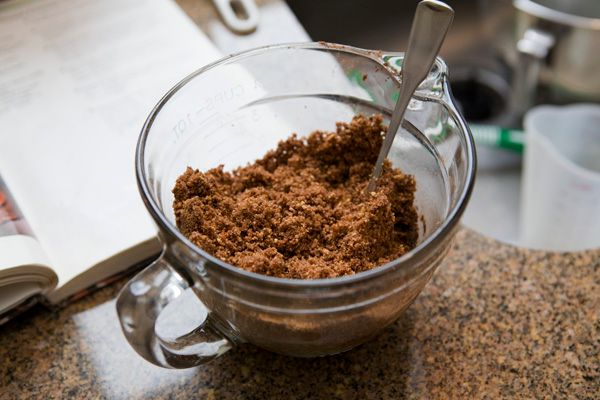 Combine and press into the bottom of a greased springform pan. Set aside.
Take 3 packages of softened cream cheese (the 8 ounce size) and combine with 1 1/2 cups sugar.
Do not, under any circumstances, notice how many calories are in the cream cheese or make mental calculations as to the calorie content of this dessert. It will cause depression and self-loathing, which require the making and eating of MORE cheesecake. Which will in turn cause more depression and self-loathing. Let's just avoid that vicious cycle all together, shall we?
Beat sugar and cream cheese well. Add 4 eggs and 2 tsp vanilla. Beat just until combined.
Add 1 2/3 cup Reese's peanut butter chips. This is the small 10-ounce bag found in the baking aisle of your grocery store. Or measured out of the extra large billion-ounce bag they sell at Sam's Club. You know, the one you can grab handfulls from anytime you happen to be in the kitchen?
Yes. Get that one. My bum will thank you.
Fold in peanut butter chips gently.
Pour over prepared crust and pop into a 350 degree oven for 50 to 55 minutes.
Bake until slightly puffed and center is set except for a 4-inch circle in the center. I have found that with my oven, I end up cooking the cheesecake probably 60 to 63 minutes total.
Remove from oven and cool for 30 minutes. With a knife, loosen cheesecake from the side of the pan. Cool completely.
When completely cool, remove side of pan, and get ready to make the chocolate drizzle.
For the chocolate drizzle: Melt 3/4 cup semi-sweet chocolate chips and 1 Tbsp shortening in microwave on high for 30 to 45 seconds or until smooth when stirred.
I like to fill a pastry bag with the melted chocolate because I'm uber fancy, but you can easily drizzle it from a spoon if that's how you roll.
Drizzle chocolate until you're satisfied or it's completely covered- whichever comes first. Pop into the fridge to set for several hours.
Invite people over to partake and find that you have won friends and influenced people.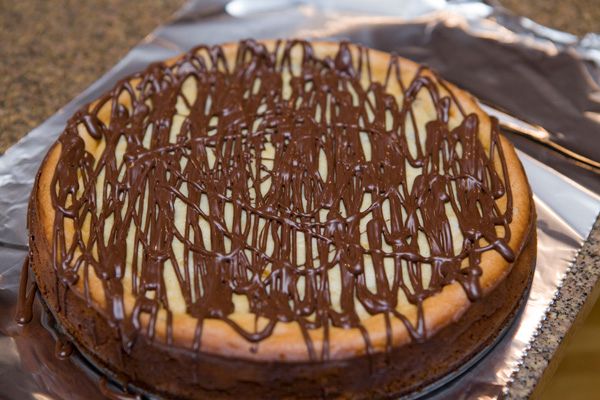 Yeah. You're welcome.