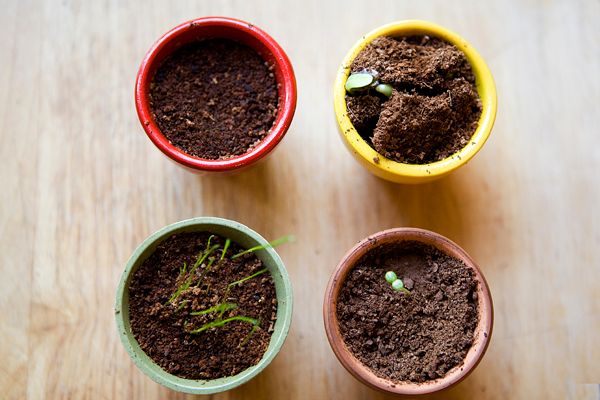 For Easter, I found these adorable little pots that came with seeds and soil, and got them for the kids. I thought the boys would likely have little interest in growing the plants, and figured the project would then be taken over by the princess.
Oh, how I forget the competitive nature that is our family.
We potted, planted, and watered each one on Easter Sunday and immediately the speculation and betting began. On whose plant would come up first. On whose plant would be the biggest. Or the strongest. On whose plant was going to dominate and destroy all the other plants.
And most of this trash talk came from the Husband.
By Easter night, we noticed that Chase's little red pot was overloaded with water. Apparently, he thought some extra water was the plant equivalent of steroids, and that a few extra doses would give him the advantage over his siblings.
Sadly, the principle doesn't quite work the same for plants as it does for the pro baseball players. It's been over a week now, and Chase's plant has yet to emerge from the soil at all. I think it didn't survive the flood.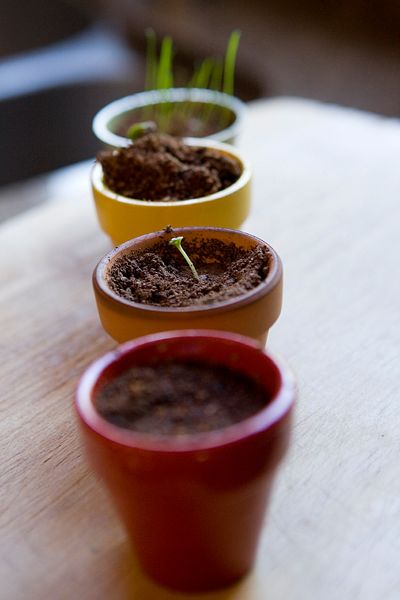 McKay's grass seeds were the first to emerge, followed by Hannah's lone zinnia. My sunflower brought up the rear and has been the most entertaining, what with the actual seed pod still clinging to the plant that burst from inside it. Every day the kids check to see if it's fallen off, and every day it holds steady.
Watching it kind of reminds me what it's like to be a mama. You nuture this little bud inside you, are literally torn in half birthing it, and then you devote all your energy to caring for your new seedling. Your previously charming and possibility-filled life now has one singular goal: Hold on tight with clenched fists and gritted teeth for as long as you possibly can. All the while, the indifferent little seed wastes no time in shoving your shrivled self out of the way so it can have its day in the sun.
Don't worry, sister sunflower. We mamas feel your pain.
Our seedlings do the very same thing.