The first day of school came and went. I had planned to stand on the driveway, camera in hand, and dutifully capture every detail of their departure.
After making breakfast and lunches, cajoling, nagging, and cleaning, I went to grab my camera. Tragically, the batteries were dead.
What is it they say about the shoe cobbler's kids never having shoes? A photographer's children never having photographs?
Yeah. Something like that.
So we staged some first-day-of-school-photos on the second day of school. Honestly, in 20 years, no one will be the wiser.
Plus, they'll be too busy mocking their hair and outfits (and blaming me for both) to really care, I am sure.
This boy came bursting home on the first day, eager, happy, and thrilled with his new grade. Second day? Eh. Not so much. Turns out that teachers like to give homework; plus, tests and studying will be requirements this year.
Unlike his hopes and dreams otherwise.
Good news is he will survive. Really, what choice does he have?
This kid wore his new clothes the first day (which, mind you, I forced him to purchase) then happily threw on his oldies for the second day. Don't know why I bother spending ANY money at all on him. He would prefer to dig through the trash and find old things to wear, use, and undoubtedly, eat.
He is excited to be playing violin this year, and when we went to rent his instrument, they offered a wide price range of options. When the sales lady assured us that they all play the same, but vary in looks only, he requested the oldest, most scratched up violin possible. She laughed, looked at me like, "Is he serious?" and I just shrugged my shoulders.
I am pretty sure he is the first kid in the history of the world to
request
the old, ugly violin. Most are probably begging and pleading for the newer, unscratched models.
Not Chase. Gotta love that kid. He's saving me thousands of dollars against my will.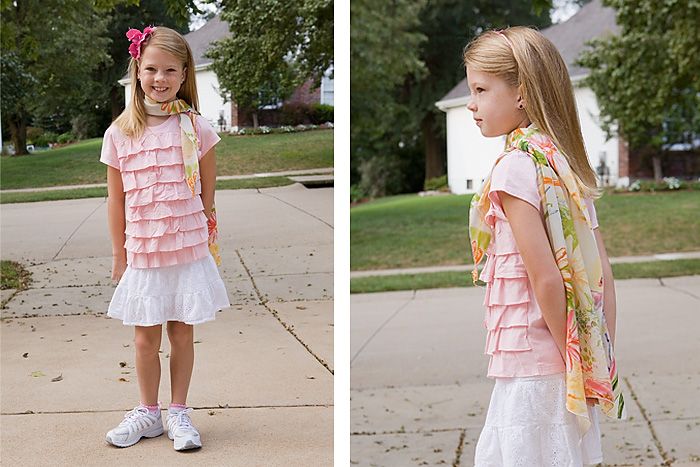 The little princess has been THRILLED with her first few days of school. Her BFF Jilian is
finally
in her class this year, and they have been two peas in a pod. Every day is a new adventure in chatting with her besties. School work, reading, tests? Not on the priority list for this social butterfly. School = friends.
She dresses herself daily and (to my dismay) always looks way cuter than I do. I am thinking those critical comments she makes about my wardrobe might have some substance to them after all. Crap.
And me?
Well, I'm holding my own and trying not to have too much fun during the day. In three days, I have already treated myself to lunch, a movie, a shopping spree, and a nap. It's glorious. I think I love school more than anyone else in the world.
Except for one thing: Its constant interruption of my sleep.
(As modeled by Hannah for you here)
The six a.m. alarm clock is killing me. It will soon be dark at that hour, and cold, and I don't know how I will survive another nine months of this. I'm a frightful beast early in the morning and look something like this:
Yikes, right?

How many days until Christmas vacation?