Guess what? So it turns out that there is this crazy thing called "The Internet." And on "The Internet" there are these wacky things called "Blogs" where people keep a record of their everyday lives, showcase their family activities, and post for all the world to see on a daily basis.
Did you know that?
Isn't that amazing?
(One would think I'd never heard of it, the way I've been posting around here. Or NOT been posting.)
Well, I am back. I had a most excellent Thanksgiving, and will now proceed to bore you (The Aforementioned Internet) with photos and updates of my goings on. Feel free to click off and hunt for free p@rn unless you are:
a) a relative (and even then I might understand)
b) one of the 16 people featured in the pictures
c) a stalker who can't get enough of me, no matter how boring my posts become
We had quite a crowd here for the holidays, and it made my heart sing with joy. There is nothing more fantastic than sharing the sacred gluttony that is Thanksgiving with people I love. We had two of the Husband's brothers, their families, and the in-laws come to stay (for a total of 16, ranging in age from 64 to 14 months).
There was much eating. A lot of card playing. A couple movie viewings. A little sleeping. And definitely some more eating.
(There was also a computer virus, a flood in the car, and a minor vehicular accident. But who's counting the bad things, anyway?)
The best thing I did all Thanksgiving day (besides eat my weight in coconut cake) was hand my camera off to a brother-in-law. I tend to find myself preoccupied on days like this with the cooking, and do not always remember to do the picture taking. I am so grateful.
What would my crazy stalkers have to look at otherwise?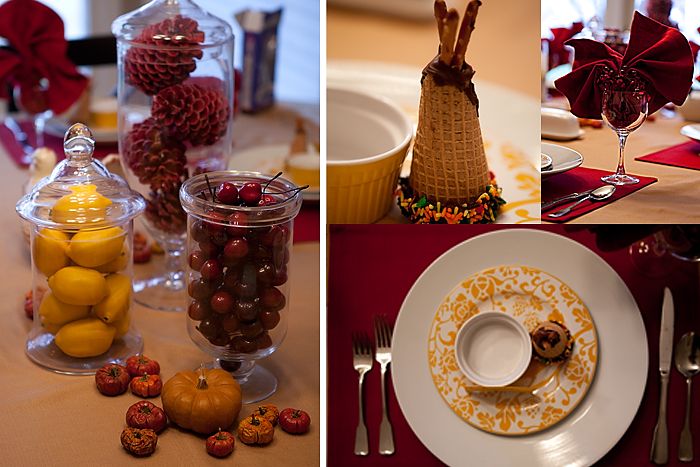 It was the best weekend, and my house seems far too quiet without all of them here. Anyone ready to come back?
Best. Thanksgiving. Ever.