Alternate title: How to make your husband go absolutely weak in the knees.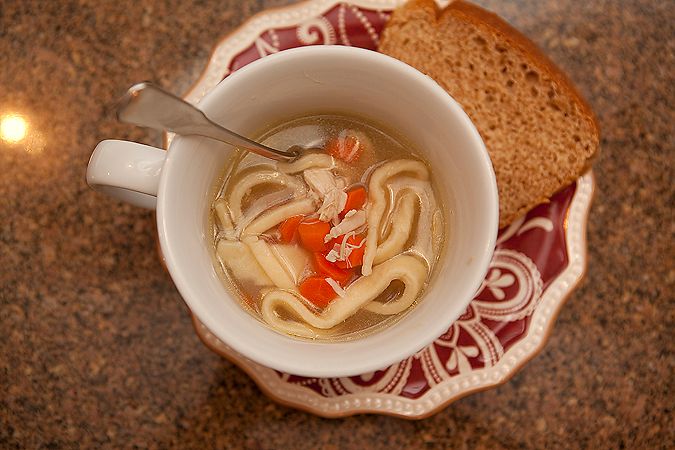 What's that? Your husband's love language isn't homemade chicken noodle soup?
Well.
Make this, and it will be. I guarantee it. That sofa you've had your eye on? A girlfriend's trip to Paris? Make this soup for him, then casually drop into the conversation what you're wanting, and he will be powerless to resist you.
[Not that I'd know anything about that, ahem.]
This is an ancient family recipe, going back generations. It was a staple in the Husband's childhood home, and has become one in ours. It could not be any easier, and I feel it a sin if you waste your life on soup any less worthy.
Step one: Take a whole chicken and throw it in a large stock pot. We love to make this with leftover turkey at Thanksgiving the best. Second in line would be the pre-cooked chickens they sell at Sam's Club. But even just a regular, boring, everyday whole chicken will cook up nicely.
Add: A few whole carrots (unpeeled), a large onion (quartered, and
with the skin left on
), a few celery stocks (leaves still attached), a bay leaf, and some salt and pepper. I used a red onion here because it's what I had, but red, yellow, or white - any of them will work.
Pour in enough water to cover the chicken by a good inch or two. Then plop it on the stove and bring to a boil, lowering the heat and letting it simmer for a few hours at a soft boil.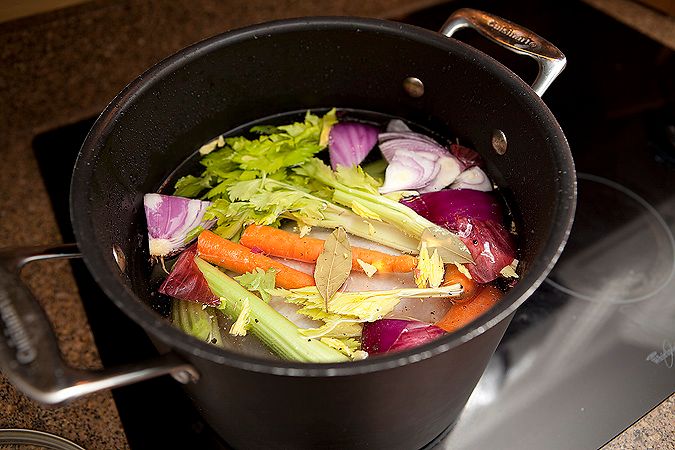 During this part of the process, your house will smell divine. Your children will salivate. Text messaged photos sent to your husband's phone will result in meetings being canceled and him walking through the door MUCH earlier than normal. I'm telling you, this soup is like a magnet that pulls your loved ones home.
Once it's simmered, boiled, and married all the lovely flavors together, pour everything through a colander to a large bowl. Notice the splash and spillage of broth out the sides? Tragic is what that is.
(It's also wise to do this step in the sink. Unless you like the feel of hot boiling lava on your bare feet.)
I like to then re-strain my broth through a very fine colander or cheese cloth to remove any remnant chicken bits. Your broth will have a lovely yellow color and smell positively delicious. At this point, you could freeze your broth and save it for another day or even another cooking purpose. But since our hearts beat to the drum of chicken noodle soup, that is where we'll be headed.
If I can, I make the broth a day ahead and refrigerate it, bringing all that lovely fat to the surface. It makes it so easy to scrape it up and out - keeping your inner thighs free for other fatty treats. But with this batch I was in a hurry, and we wanted to eat right away, so I poured the broth into two containers and froze them both.
Splitting it like this made it so that the broth could cool/freeze faster, resulting in a lovely layer of fat just waiting to be removed.
Pour the now-fatless broth back into your stock pot and put it over medium heat on the stove. By this time, your chicken should be cooled enough to remove all the meat from the carcass. Probably the worst job in this whole process, but a necessary one. Discard the bones and vegetables once all the meat is removed.
Chop your chicken finely. Add it to your broth on the stove.
Recruit a minion or two with the promise of knife usage and you will find help abundant in the kitchen. Have the minion peel and chop 5-6 carrots. Or ten if you like. Whatever suits your fancy. Then add them to the pot.
Next comes the step that MUST NOT be skipped. Don't be tempted to throw a few handfuls of rice or (heaven help you) store-bought noodles. The whole
point
of this soup is the homemade noodles.
Take:
1 cup flour
1/2 tsp. salt
1 egg. beaten
1/2 egg shell full of milk or cream
Mix all ingredients together, adding more flour or milk to make a pliable dough. Also? We typically double or triple this for a big batch of soup.
What can I say? Girlfriend likes herself some noodles. So do her peeps.
With a rolling pin, roll the dough flat and slice it into strips with a knife or pizza cutter. Don't be worried about getting them all even and perfect. Homemade noodles should be of every height, width, size, and breadth.
Just like people.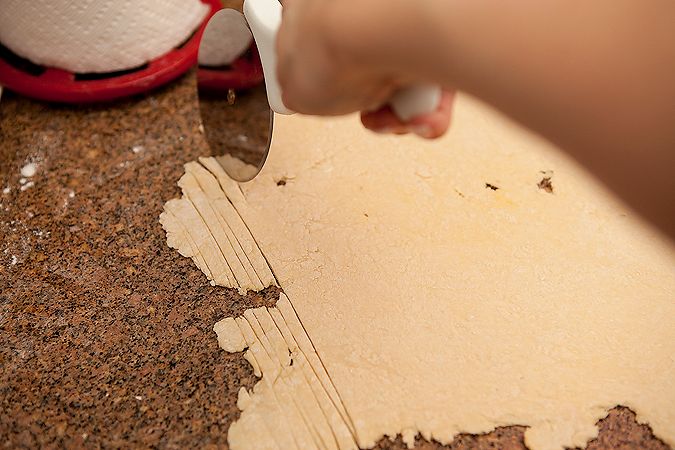 When your broth is at a medium boil, drop your noodles in, one at a time. Simmer for 15-20 minutes.
Then, ladle up a big bowl. If you are really awesome, serve some warm bread and butter on the side. Then sit back and watch your husband's face carefully. With the first bite, and its earthy, homemade goodness, you will see precisely just how much he loves you. He will be unable to hide it. You will be delighted.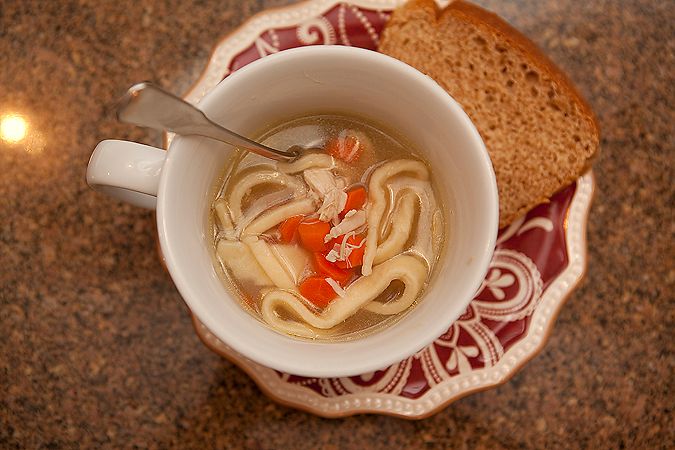 Now it's your turn. What can you teach us today? Leave the link to your own how-to post in our Mr. Linky below. Then be sure to copy the html code (under the blue button on my sidebar) into your post. Sit back, and wait for the internet to bow at the throne that is your genius.
I'm waiting. Anyone?
Oh well. Next time.
Mister Linky's Magical Widgets -- Easy-Linky widget will appear right here!
This preview will disappear when the widget is displayed on your site.
For best results, use HTML mode to edit this section of the post.