A few weeks ago, I went on a little trip across the pond.
Or did I mention it? My trip? Yes?
All right then. Shut up.
While there (and properly following the instructions on my electricity converter, mind you) a slight mishap occurred that involved me and a Chi flat iron.
It broke my heart. (But mostly because it meant I had to walk around London and Paris with bad hair. And how would Darcy, Prince Harry, or Daniel Craig ever be able to fall in love with me?)
Because smooth, straight hair? Slightly important. Unless the Diana Ross ever comes back in style. Then I'm all set.
ANYway, the point of this rambling post is that I had to buy another one. So, first day off the plane, I stampeded my big-haired self into my local Ulta. Hannah came with me because, hello, she's female, and that store is like a magnet for us X chromosomers.
While in the checkout line, the clerk asked if I would like to donate a dollar to breast cancer research.
This happened at the exact moment that Hannah began tugging on my sleeve and
whispering
asking in a loud voice whether I thought the clerk was a boy or a girl.
The clerk, who was very obviously a boy, was wearing more make up than Cher on her best day in Las Vegas.
In a cheery attempt to distract Hannah and keep the He/She busy, I said that, sure, I'd love to donate to breast cancer. Oh, and what is that lovely thing over there?
I have no doubt that the He/She heard Hannah, and I got out of there as fast as I could.
Fast forward to today. I get a call from Ulta saying that I had won the breast cancer giveaway, which was $600 in free beauty products, and would I mind coming in to pick them up?
Would I mind driving five minutes down the road to claim my free stuff? Heck, I'd have crawled there in my underwear while wearing a crown of mayonnaise on my head. I love that store and spend a fortune on anything promising to make me look 12 again. Now you want to give me a whole bag of it FOR FREE?
Internet, I give you the booty, bounty, and beautiful pile of free stuff from the tragically gorgeous He/She at Ulta: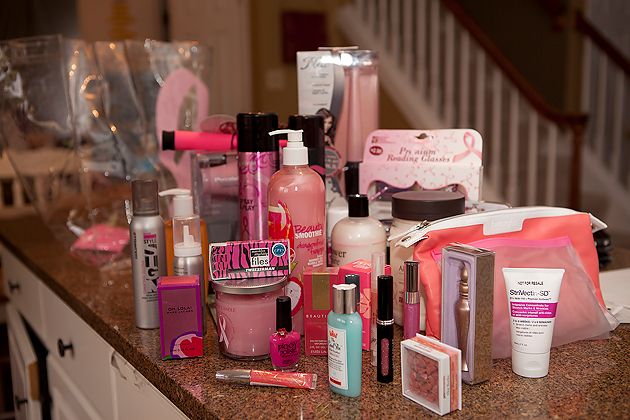 Shampoos, lip glosses, a blow drier, a curling rod, face creams, hair spray, nail polish, perfume...you name it, I've got it.
Even three pairs of fabulously pink reading glasses.
I'm thinking today HAS to be my day to play the lottery.
Either that, or I should just put everything on my face at once, head over to Ulta, and take a photo with the He/She.
(I'll bet he'd (she'd?) still look better than me. Seriously. Boyfriend rocked the make-up.)