When I saw
this post
over at the Nester, I knew I had to have one of my very own.
Only, I didn't want to pay big bucks for something I could create myself.
Because I'm
crazy and controlling
frugal and independent like that.
And since we've moved more times than most people in our 17 years together, this was the perfect accessory for our home. It took some time finding the old street names, but was a nostalgic walk down memory lane in the process.
Oh, the stories each street could tell you about me.
[Yeah. Me and my wild self. NOT.]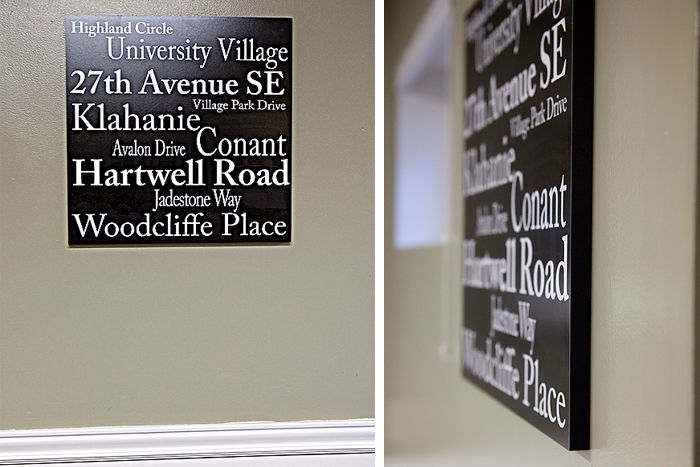 I mixed them all up order-wise and the kids had fun trying to assign each street name to its matching city and state.
I also put a photo of our current home behind the text and reduced the opacity, but it doesn't show up very well in the photos. I had the print mounted on a 3/4" standout with black edging, knowing that I wasn't going to put it in a frame. I wanted to hang the print in the basement, and that is a glass-free zone, so it works well as-is. Plus, I like the simplicity of the print all by itself.
I'm pretty happy with how it turned out.
And it seals the deal: We can't ever move again.
There's no room on there for any more street names.