Our town has a cupcake store that is dangerously close to my front door. Their cupcakes are good, but definitely not my drug of choice. (Unless it's their red velvet. Then I can eat my weight in them.)
There is one item in their store, however, that I would buy each and every single day of my life except for two things:
1. They are almost two dollars a PIECE (and they're so small that I really need about 8 to satisfy my thirst for them)
2. I would weigh 900 pounds in less than a year
So I took it upon myself this week to try and recreate their tasty bites of awesomeness, if only to save the Husband's wallet a few dollars. (And to save me the shame of showing up there to buy any more. Last time? I placed my order for a dozen, and the clerk said, "Oh, you're the cake ball lady!"
Yikes
.)
While they do not taste exactly like the store's, they still taste absolutely divine. I will totally be making them again. And possibly again.
I give you, dear internet, the coconut cake balls: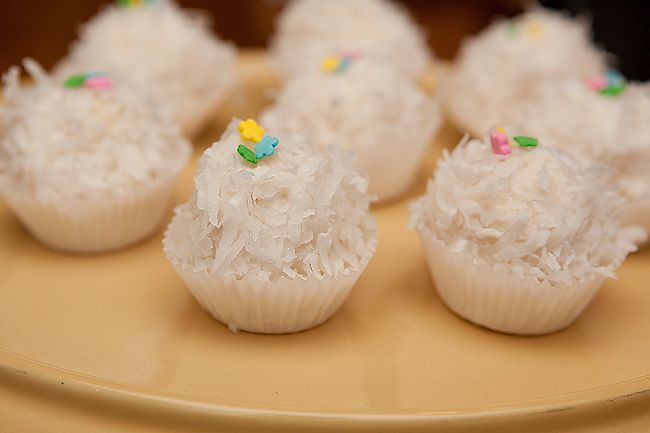 First step is whipping up a batch of
my version
of the coconut cake (adapted originally from the goddess that is Paula Deen). Bake according to my directions and cool. Crumble cooled cake into a bowl and squish until you have fine crumbs. (Note, this cake makes three layers and is A LOT of cake balls. I only crumbled up about 1 1/2 layers and got around 50 balls, FYI.)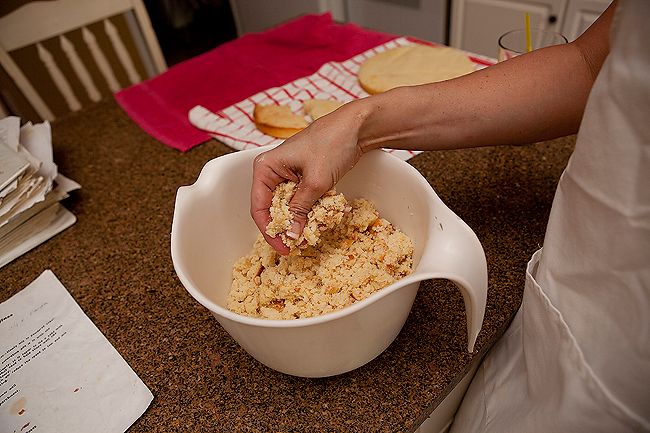 Some interesting observations here about me, my workspace, and the way I operate.
Moving on.
Add a cup or two of your favorite buttercream frosting.
This
one is my personal favorite and the only one I let touch my perfect cake. My darling. My preciousss....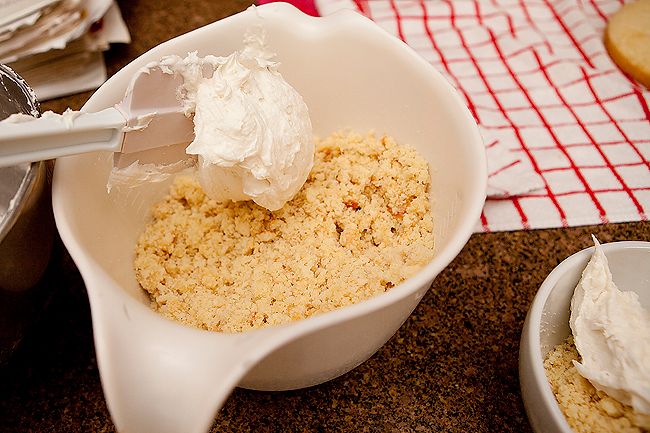 Mix the cake and frosting with your hands until combined, adding more frosting to taste. Then pour in some coconut. I added roughly 1 1/2 cups.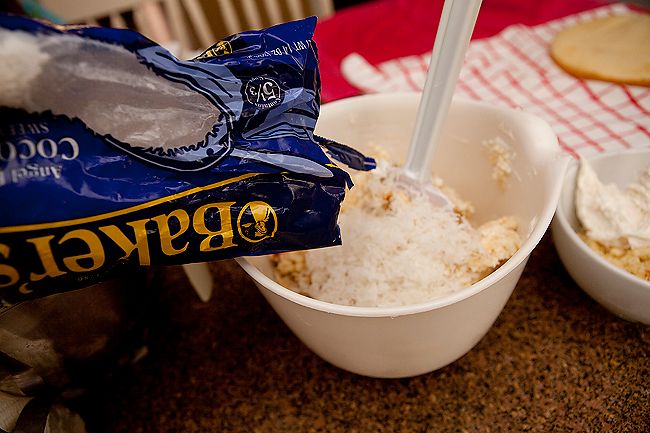 Then roll them into balls and pop in the freezer for about 15 to 20 minutes.
Then (are you tired of using your mixer yet?) mix up a batch of my sugar cookie glaze:
2 3/4 cup powdered sugar
2 tsp. shortening
3 Tbsp. water
1 Tbsp. corn syrup
1/4 tsp. vanilla
I wanted it pretty thin, so I ended up adding easily 9 Tbsp of water or more. Just keep adding water until it's the consistency of Elmer's glue.
I dipped the balls into the glaze and basically rolled them on the edge of the bowl to get most of the glaze off. Otherwise, it's just too much. You only want a light coat.
Then dip, roll, and cover these babies in coconut. Be prepared for the coconut explosion in your house. It gets E-V-E-R-Y-W-H-E-R-E.
Garnish as desired and try not to eat too many of them. I popped them into mini-cupcake papers (though I was wishing I had a color other than white so as to make them stand out more), but I'm pretty sure no one is going to complain about that.
Except the angry voice in my head.
And nobody listens to her.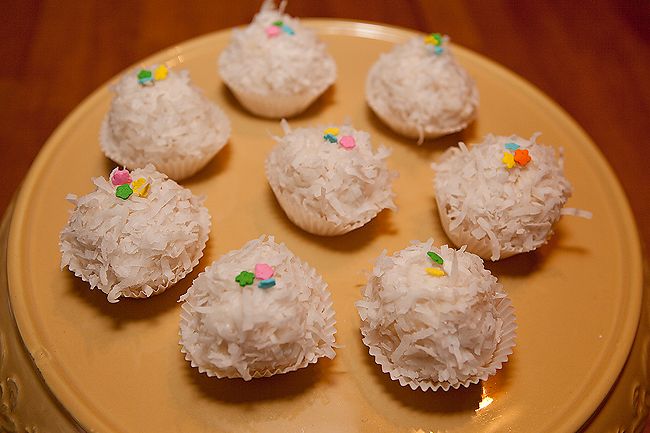 And that, my friends, is how you win friends and influence people. Amen.
Your turn!
Mister Linky's Magical Widgets -- Easy-Linky widget will appear right here!
This preview will disappear when the widget is displayed on your site.
For best results, use HTML mode to edit this section of the post.